Student housing is definitely a different animal than the conventional apartment market. But experienced multifamily pros know that student housing often provides a glimpse of the trends on the horizon for the market rate industry.
You can already see that in the over-the-top amenities that have sprung up at many luxury apartment communities today, from state-of-the-art fitness centers to connected, common-area work spaces that residents can reserve as an away-from-the-office. Those kinds of trends can trace their emergence to student housing residences, where onsite fitness centers and ground floor or computer rooms and labs have been the norm for years.
When it comes to access control, student housing's horizon is quickly coming to multifamily's door. Across the country, nearly 90% of colleges and universities have transitioned to some form of electronic access control, according to a survey of nearly 1,000 institutions of higher learning. And Jeff Koziol, national account manager, higher education partners for Allegion estimates another 20% to 30% have implemented electronic locks all the way down to the residential living unit.
Much of the trend started, Koziol says, with security in mind. But that's been changing in recent years. "A lot of institutions want to make their residential communities a bit more desirable to prospective students," Koziol says. "It's much more impressive to be taken through a residence hall where there's electronic locks on the door."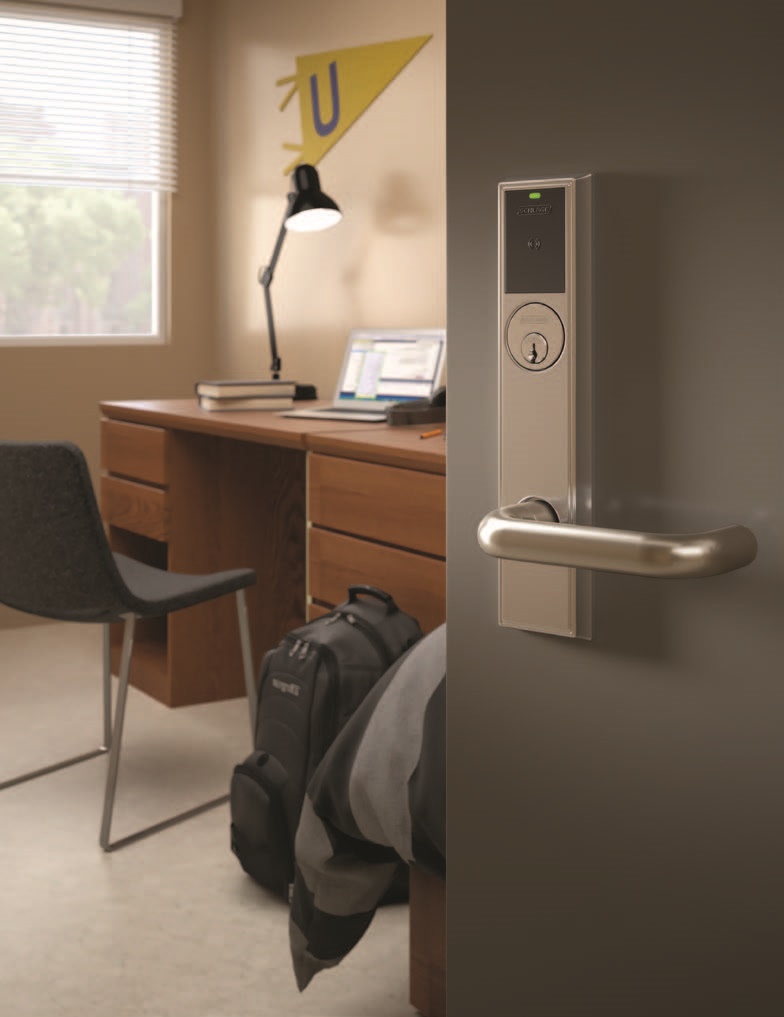 The trend is only accelerating as per-door costs to retrofit electronic locks have come down to less than $1000 thanks to leaps in wireless technology and the widespread use of batteries for electronic locks. That's a big drop from even just a few years ago, when retrofitting could break the $2,000 mark.
The reason why student housing is often a harbinger for market rate apartments, of course, is because today's students are tomorrow's renters. And that means their expectations are being set now for how they'll live down the road.
"For those students who use either an ID card or their phone to enter their rooms, that's what they'll expect to use to get into their apartments," Koziol says. "They're certainly not going to use a brass key."
With that type of wide-scale deployment of electronic access already in place throughout higher education's ranks, it's also a good place to mine best practices that will help market rate apartment executives plan for the technologies that future renters will surely demand.
For instance, one aspect of access control that Koziol regularly speaks with his clients about is integration into the other systems they already have in place. That's especially important in the fi rst few weeks of September, when many students are still changing rooms.
"A lot of the systems have gotten a lot more intelligent, where you can make a change in the housing management system, and have a corresponding access change," Koziol says. "The fewer keystrokes, the better. You don't want to make those changes in one place, and then have to make them again in some secondary system."
Allegion's ENGAGE™ connectivity platform, which is offered free of charge with Schlage hardware, makes it easy to connect people, openings and access together, and integrates seamlessly with other third party applications. That's an aspect that's becoming increasingly important for market rate communities, as more amenities become automated.
Whatever the state of your multifamily community in terms of electronic access, one things for sure: you'll only be using more of the technology in the future, as today's students leave their residents halls to become your renters. And they won't be carrying keys when they do. "In the future, my expectation would be to never pull out a mechanical key again," Koziol says.
On America's campuses, that future is happening today.